LUXURY SELF-CATERING ACCOMMODATION
If you are planning a stay in or around Tenterden, Brunger House is the perfect place to stay. Jo and Simon were extremely
hospitable, from the moment we arrived we were welcomed like old friends. Brunger House is amazing, spotlessly clean,
quality bedding, hot, powerful showers and a Jacuzzi bath and all in the most beautiful of surroundings. Junior and Marmite
(the Indian runner ducks) will make you feel welcome too. Thanks Jo and Simon, we hope to see you again. L & T x
My husband and I have just had an amazing weekend celebrating our First
Wedding Anniversary in Tenterden. Jo and Simon's house is absolutely stunning
and we where made to feel part of the family during our stay.
My wife and I spent our first anniversary at Brunger House. The welcome from Jo
and Simon was warm and friendly - we were made to feel like special guests in their
house at the same time as lifelong friends coming round for a cup of tea. The house
and gardens are beautiful, the ducks and geese are friendly and the room itself is
lovely. It took us 15-20 minutes to walk into Tenterden, where there is a good choice
of restaurants and pubs. We also walked to Chapel Down along the footpaths, but
got slightly lost in spite of some clear yellow signs and an OS map borrowed from
Simon! A great place to spend a weekend.
Jo and Simon were fantastic hosts, the house is amazing, the bed was so comfortable. Couldn't have asked for more!
We had a wonderful stay at Jo and Simon's beautiful home. They made us feel extremely welcome and the room was
fantastic - clean, comfortable, spacious with everything you could need. We had the room with the ensuite jacuzzi
bath which was a real treat. Breakfast highly recommended too!
Wonderful b&b, just as good as the pictures. Jo was very friendly and helpful, and made finding it really easy.
Beautiful house and location, comfortable room and amazing breakfast. We look forward to staying again.
Worth every penny for Uncle Peter's George Formby tribute evening alone! One of the many pleasant surprises we
enjoyed. It was the nice to be the first guests in the Pavilion. It is very comfortable and relaxing. We loved the personal
touches like the welcome card and the hand-cut flowers from the garden. Thank you for letting us stay here at such
short notice. What a welcome!
A fabulous welcome by Jo & Simon. We had a very relaxing time at the beautiful Pavilion and loved the selection of
games provided. Thank you for the amazing welcome pack, the bread was divine! We love our time her and will
definitely be returning. A big thank you to Jo & Simon for being such kind and fun hosts.
Wonderful! We loved our weekend staying at The Pavilion. The property was a good size, tucked away within the
grounds of the owner's house. It's newly decorated and was very fresh, light and very romantic! The kitchen was well-
stocked and had everything we needed. Jo and Simon couldn't have been more welcoming and accommodating and the
local area had a lot to offer with Chapel Down winery and the lovely town nearby. Highly recommended!
Jo and Simon are the perfect hosts! They very generously upgraded our
stay to the Pavilion apartment in their beautiful grounds (so this review is
based on the apartment rather than the original room). We enjoyed a
relaxing break in complete comfort - and appreciated all the attention to
detail and thought Jo and Simon put in to their guests' stay. The Pavilion is
beautifully kitted out and a delight to stay in. Jo also gave us a tour of the
main house - which is a charming 16th property. Would happily
recommend, and hope to be back again!

My sister and I had a very enjoyable weekend staying in Jo and Simon's beautiful home which was very comfortable
and clean. Perfect location for Sissinghurst and Great Dixter gardens that we were visiting.
Lovely house, very warm welcome. The breakfast was excellent, toast and a good selection of preserves was perfect. (I
never appreciate cooked breakfasts).
Jo and Simon were very friendly hosts. We enjoyed our three days in their wonderful taste house and lovely garden.
Everything was easy going and even better than described. On our next trip to England we surely will stop again at
Brunger House.
The pavilion was ideal and had everything we could possibly need, and the grounds are beautiful!
Thank you so much for the warm welcome, Jo and Simon, we had a great time charity shopping in Tenterden.
We had a great time at the pavilion and it was the perfect start for our Southern Coast road trip. We visited the surrounding
cities of which we liked Rye and Eastbourne, (apart from Tenterden). Jo and Simon are wonderful hosts and we would not
hesitate to visit them again. Next timethe weather will probably be good so we can finally check out the tennis court!
Stunning holiday cottage in beautiful surroundings. Jo and Simon were wonderful hosts who made us feel at home.
Lovely welcome pack that made breakfast delicious. Thank you for such a lovely stay! We will definitely be returning and
recommending to our friends back home!!
Very enjoyable stay, the pavilion has everything a body could want. Jo and Simon are very hospitable hosts. Location great
for exploring the southern coast and cinque ports.
What a perfect place to stay and such welcoming, friendly hosts. A perfect way to
celebrate our wedding anniversary. Thank you to Jo and Simon for everything you
provided. The Pavilion is so comfortable and cosy and the garden is beautiful. Will
definitely recommend to others.
Thank you so much Jo and Simon for such an amazing stay! Brunger House and
the Pavilion are gorgeous. We had everything we needed and more and you both
made our stay even more enjoyable being such great hosts. We are looking forward
to coming back, thank you so much!
Thank you for the lovely welcome Jo and Simon, we felt at home straight away.
The Pavilion is gorgeous, beautifully and the welcome pack was super!
We covered lots of ground, Sissingurst, Dover clifftop walk, Rye, Camber and Tenterden, ate at 'The Three Chimney', Biddenden
on John's birthday. We hope to return to de-stress again in the future!
Great stay at The Pavilion, mixed weather but managed to eat on the veranda a couple of times which was lovely. Visited lots
of places, Canterbury, Leeds Castle, good visit to Old Dairy Brewery for big samples, walk there and back! Thank you.
Thank you for a lovely welcome and stay.
Sorry we did not stop for what looked a lovely breakfast, but a bit of a hangover and
a need to get back home for the dog as our daughter had to leave extra early for
work. I must compliment you and Simon as we could not fault anything.
Beautiful House. Spotless and so tasteful with old and new complimenting each
other. And you really were fantastic hosts. Although we met for first time yesterday, it
was like staying with friends or family. Please do put this on your website .
Many thanks
Paul & Jacqui.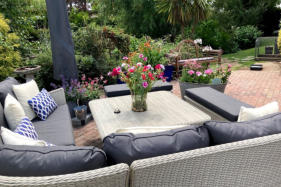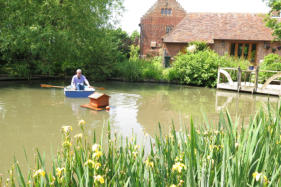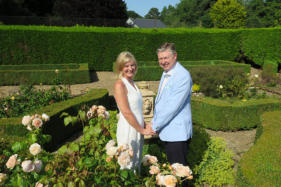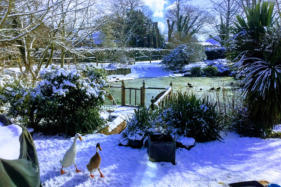 Set within the beautiful grounds of Brunger House.
Additional rooms may be booked in the Main House for
larger groups when also booking The Pavilion.